The Forth Industrial Revolution
As it is stated in in the meaning of the fourth industrial revolution following the flow of thinking, the keyword of forth industrial revolution (IR) is automation; the first IR was steam; the second IR was electricity; the third IR was communication.
Automation is known as the robotic manufacturing system, but now it needs more attention in the software industry.
The software industry is taking the initiative over hardware along with the transition from third industry to the fourth.
GE announces its transition to the software and analytics company in 2017.
IBM has already transformed itself from a hardware company to the software and service company from the 2000s.
Ironically, the software industry is less automated than hardware industry regardless of industrial transition.
In the process of a software development project, developers must intervene from every procedure to the test results, and involve in the release, deployment, and operation process.
Now we can infer the direction to win the competitiveness in the fourth IR, which is the automation of development and operation system.
Next table shows the transition of Industrial Revolution.
 

1784

1870
1969
2020
Industrial
Revolution
1st
2nd
3rd

4th

Energy

Coal
Petroleum
Electricity
Renewable Energy
Communication
Telegraph
Telephone
Internet

IoT (Internet of Things)

Transportation

Railway
Automobile
Smart
Replicator (Local Production)
Influence
Consumer Goods and Light Industry
Electrochemistry, Heavy Chemical Industry
IT

Every Industry

Paradigm

Machine
Mass Production
Digital

AI (Artificial Intelligence)

Value

code
voice
information
Data

Production
Mechanism

Factory system and mechanization
by steam engine
Mass production by standardization of work and division of labor
Automation revolution by industrial robots

Automation with AI
(Artificial Intelligence)
Low volume and multi-product production
This paradigm emphasizes that only companies will survive who meet the diverse needs of customers by shifting its traditional manufacturing methods to automated small volume production. So, every enterprise must meet digital transformation to change and make a revolution in their business model. In regards of software digital transformation include the change of architectures.
Today's demands are simply not met by yesterday's software architectures. from https://www.reactivemanifesto.org
Mobile generation requires different development methods and architectures.
Software companies have out-competed traditional firms and even acquire hardware companies.
You can compare the top five companies with the highest market cap in 2007 and 2017.
Rank

2007
2017

1

PetroChina
Apple
2
ExxonMobil

Google Alphabet

3

GE
MS
4
China Mobile

Amazon

5
ICBC
(Industrial and Commercial Bank of China)

Facebook
Digital conversion is the way to ride on the changing paradigm, and companies are more likely to disappear without it.
DevOps
DevOps is one of the most critical factors in the software-based digital transformation.
DevOps is an enterprise software development methodology used to unify an agile relationship between Development and IT Operations.
Let's take a look at the DevOps of the Unicorn Company to see how they change and improve the relationship by advocating better communication and collaboration between the two business units.
Unicorn Company and DevOps
Facebook
Continuous iterations and incremental development
Facebook developers work in independent and released small changes frequently.
Done is better than perfect.
Code wins arguments.
The best idea and implementation should always win. 
Google (Ten Things we know To Be True in Google)
Focus on the user and all else will follow
It's best to do one thing really, really well.
Fast is better than slow.
Democracy on the web works.
You don't need to be on your desk to need an answer.
You can make money without doing evil.
There is always more information out there.
The need for information crosses all borders.
You can be serious without a suit.
Great just isn't good enough.
Netflix
High Availability, but move fast.
Tools encourage best practice, but freedom to do the right thing.
Amazon Leadership Principles
So, Big Unicorns' common goals,
Moving Fast
Focus on customers
Goal of DevOps
DevOps is not about a technology, DevOps is about a business problem.
 As above, unicorn companies have been applying DevOps methodology to respond customers' needs in this fast moving business environment.
Steps of DevOps
Understanding the business value of DevOps is must do, but how about the implementation?  As to the steps of DevOps, the below will help you to approach your DevOps implementation; these can be boiled down to eight steps.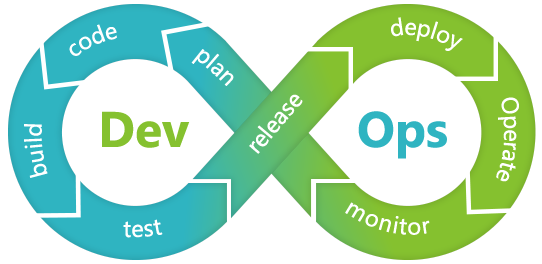 At first, there are four developmental steps as below.
No

Step

Contents

Automation
Methodology
1
Plan
Understand the problems and plan the solutions.
No

Men use tools as aids to capture requests.

2

Code
Code software based on step 1.
No
Coding by men varies productivity.
3
Build
Complete step 2 coding to the degree of an executable implementation.
Yes

Automation by CI/CD tools.

4

Test
Test whether the completed implementation of the step 3 is running as planned.
No
(Mostly No)

Partial automation is possible for the unit tests, API tests, and UI tests.
And the below are four operation steps.
As I said before, every company which apply DevOps make their efforts on how to minimize human intervention and automate above 8 steps.
5

Release
Fix step 4 with the release.
Yes
Prepare and generate the release through collaboration with the version control systems.
6
Deploy
Prepare the deployment and service of step 5 depending on the operating system environment.
Yes

Implement automation through a container or an orchestration tool.

7

Operate

Operation of the deployed service from step 6.

Yes/No

The goal is to operate automated processes with minimum human involvement.

8
Monitor

Monitor service operation from step 7.

No
(Mostly No)

Identify anomalies of the system through monitoring log and event by human intuition and analytics.
Measuring DevOps and IT Performances
Next table shows how the unicorn companies go fast and do their own DevOps cycles forever. The faster cycle tends to be more fast product refinements and prompt user response.
Deploy frequency (Note: NOT delivery)
Mean Time to Recover (MTTR)
Lead Time for Changes
| | | | | |
| --- | --- | --- | --- | --- |
| company | Deploy Frequency | Deploy Lead Time | Reliability | Customer Responsiveness |
| Amazon | 23,000 / day | Minutes | High | High |
| Facebook | 1 / day | Hours | High | High |
| Google | 5,500 / day | Minutes | High | High |
| Netflix | 500 / day | Minutes | High | High |
| Twitter | 3 / week | Hours | High | High |
| Typical enterprise | Once every 9 months | Months or quarters | Low / Medium | Low / Medium |
From a book, The Phoenix Project (2013)
The above chart shows that many companies run the DevOps cycle at least once a day, and the more the cycle they run, the more competitiveness they take.
Automation
Let's take a look together with the automation, a keyword of the Forth Industrial Revolution and DevOps.
The needs for automation
To gain competitive advantage, what can be the best way to run the cycle faster?  The answer is automation.
Obstacles of Automation
Ideally, the fastest cycle performs from the complete automation especially in the fourth developmental step and the eighth operational step.  The trick is to strike a point of minimum human intervene and the maximum automation on development, testing, and deployment.
No

Group

Step
Contents
Automation
How to automate

1

Development

Plan
Understand the problems and plan solution method.
No

Increase automated problem detection using AI.

2
Development
Code
Code software based on step 1.
No

There is no complete automation in coding, but it is now an issue in AI field.

3

Development
Build
Execute and implement coding from step 2.
Yes
4
Development
Test
Test the implementation of step 3.
No
(Mostly No)

Check the error points.

5

Operation
Release
Fix the release of step 4.
Yes
6
Operation
Deploy
Prepare the deployment and service of step 5 to meet each operational environment.
Yes
7

Operation

Operate
Run the deployed service.
Yes/No
Is the current service running normally?
8
Operation
Monitor
Monitor various statuses while running the service of step 7.
No
(Mostly No)

Is there any problem with the network, system, resources, etc.?
The key to the lead of competitiveness remains whether the resolution made it through automated testing, automated operations, and automated monitoring.
Most APM products need to insert some code at step 2 (code) and wait at step 7 (operate) and get the result at step 8 (monitor).
What ARGOS can do! 
ARGOS can make a difference in step 8.
No

Group

Step
           Content
Automation
What ARGOS can do
1
Development
Plan
Understand the problems and plan solution.
No

2

Development
Code
Code software based on step 1.
No
3
Development
Build
Test the implementation of step 3.
Yes

4

Development
Test
Test the implementation of step 3.
No
(Mostly No)
ARGOS can automate UI scenarios and report the anomalies.
5
Operation
Release
Fix the release of step 4.
Yes

6

Operation

Deploy
Prepare the deployment and service of step 5 to meet each operational environment.
Yes
7
Operation
Operate
Run the deployed service.
Yes/No

ARGOS can run the service from the user perspective for a web or app, and analyze anomalies.

8

Operation
Monitor
Monitor various statuses while running the service of step 7.
No
(Mostly No)

ARGOS specializes its service in GA or APM industry by providing the analytics based on the real user action while existing APM services are focusing just on monitoring service.
Argos can automate step 4 and 7 to reduce the number of cycles and the cycle time without any code level modification.


Jerry Chae
CAO, ARGOS LABS
https://www.argos-labs.com/wp-content/uploads/2017/10/03.png
282
768
ARGOS LABS
https://www.argos-labs.com/wp-content/uploads/2018/11/logo-black-150x70.png
ARGOS LABS
2017-10-23 19:24:50
2018-01-08 00:37:50
THE NEEDS FOR ARGOS